Seinfeld Ended 25 Years Ago — Percival Menswear Channels The Feels Into A Capsule Collection
No puffy shirts or raincoats, though.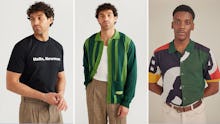 We may receive a portion of sales if you purchase a product through a link in this article.
Though it's been a good, long while since Seinfeld graced our primetime screens, the show endures (especially with a whole new audience on Netflix). If you've ever dreamed of having a shirt that Kramer would envy or a suit that captures the slouchy essence of the '90s, menswear label Percival has got your number.
Each item in the collection looks like it could have been swiped from the set while Jerry wasn't looking — or features cheeky phrases and imagery that Seinfeld stans are sure to enjoy. With items celebrating everyone from Newman to Puddy, this collection may make you chuckle, though you'll probably also want to feel the material à la George because each piece is crafted with the fine fabrics and thoughtful cuts that signify a Percival joint.
Shop the limited edition Seinfeld looks
Below, peruse the collection where any piece is sure to be a conversation starter (even for a low-talker). From bold, colorblock button-downs to funky knits and, yes, even a suit with light shoulder pads, these looks have a lot to say and are ideal for days when you want to make a statement.
A tee honoring Jerry's arch-nemesis
Jerry actually only utters this phrase 18 times over the entirety of the series, according to the brand. Yet, it's burned into the cultural lexicon more powerfully than a birthday party fire. Such is the power of Seinfeld. This 100% organic cotton tee has a regular fit, a crewneck, and the show's logo on the back.
This button-up worthy of bursting through a door
With a striking Cuban collar and a bowling-alley vintage style, this relaxed-fit shirt is made from a luxe cotton blend. It comes in a sherbet-orange with forest green accents or a bold blue accented with black.
A blazer bringing the power suit vibes
Channeling the oversize look ubiquitous of the '90s, but with a slimmer, updated fit, this subtle houndstooth blazer has enough movement to make you want to strut down the sidewalk (and maybe even twirl while pointing at passersby). A bit of shoulder padding adds definition.
This 8-ball shirt that takes a cue from Puddy
This lively knitted tee takes the loudness and bravado of Puddy's 8-ball leather jacket and tones it down — just a touch. It has a regular fit, Cuban collar, double jacquard design, and lots of personality.
An oversize sweater with the gang emblazoned in jacquard
Maybe no one needs a sweater with the larger-than-life faces of Jerry, George, Elaine, and Kramer, but that doesn't mean most everybody shouldn't want it. The limited edition jumper is going quickly, so if you want to swaddle yourself in this cushy, 100% cotton crewneck you should act fast.
The shirt that would make Frank Costanza proud
Featuring the classic "Serenity now" mantra for instant relaxation, this bright indigo tee is made of 100% cotton. The regular fit is slightly slim without being clingy (hear that, Estelle?) and it's topped by a sensible crewneck.
The reversible jacket that goes from demure to daring
On one hand, this bomber-style jacket has a versatile, classic, slightly preppy feel. On the other hand — or, when you flip it inside-out — its peachy, candy stripe lining becomes the star, and it dazzles. It's 100% cotton with a slightly oversize fit.
The long-sleeve button-up that's giving "Elevated Kramer"
This loose-fitting, oversize shirt wears like a cardigan and its alternating green stripes add a touch of elegance — though paired with a simple white tank, slacks, and a flourish, it's definite Kramer. It has a vintage look and is made of 100% cotton.
A subtle shirt that's at home in the Hamptons
A bit less over-the-top than some of the other pieces, this cushy cotton button-up has embroidered lobsters chilling on the front pockets — a nod to when Kramer's sticky fingers met a commercial lobster trap in the Hamptons. With a cool wash and line-dry, the brand promises no shrinkage.