47 simple ways to declutter your home you'll wish you knew about sooner
We only recommend products we love and that we think you will, too. We may receive a portion of sales from products purchased from this article, which was written by our Commerce team.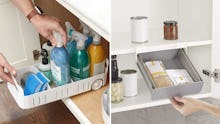 A peaceful home has a ripple effect toward a peaceful state of mind — it's a little center of zen in a chaotic world. Homes cover a lot of bases, acting as part-time yoga studios, co-working spaces, craft shops, and gym classes. With all that heavy lifting, it's pretty typical that stuff just kind of piles up. That's why customers can't stop raving about these simple ways to declutter with almost no effort.
This host of genius, awesome items on Amazon are simple, but make a profound difference in keeping things orderly. The helpful home upgrades here are the kind that seamlessly sidle into your world and make your days just a little bit breezier from clear organizers that contain your small odds and ends (but keeps them visible and easy to find) to closet space-savers that also prevent your shirts from wrinkling.
Whether they're tucked behind doors, beneath shelves, in cabinets, or under the sink, this melange of simple goodies makes a deeply satisfying use of space. There are mini shelves that double cabinet capacity, adaptable storage cubes to contain any mess, and sliding baskets that store without taking up valuable floor space. While I can't guarantee any of these will lead you to zen, they will have you breathing a sigh of contentment every time you behold your home in a glorious state of order.