Spending time in your backyard would be way more enjoyable if you had any of these clever, cheap things
Turn your outdoor living space into your *regular* living space.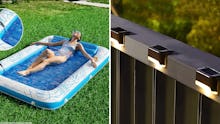 Amazon
We may receive a portion of sales if you purchase a product through a link in this article.
Is your outdoor space a vast landscape of meh? Luckily, you don't have to hire a pro to improve the situation. Just pick up a few of these cheap and clever things for your backyard that I'm about to spill the tea on right now.
Lighting, for instance, makes everything better, and this list has some incredible ideas for adding some illumination to your landscape. Go ahead and pick up a few of these clever outdoor products, then get out there and enjoy your yard.