Spending time in your backyard would be way more enjoyable if you had any of these clever, cheap things
Turn your outdoor living space into your *regular* living space.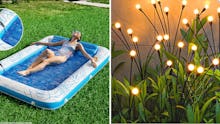 Amazon
We may receive a portion of sales if you purchase a product through a link in this article.
Is your outdoor space just a vast landscape of meh? Luckily, you don't have to hire a professional to improve the situation. Just pick up a few of these cheap and clever things for your backyard that I'm about to spill the tea on right now.
Lighting makes everything better — both inside and outside — and this list has some incredible ideas for adding some illumination to your landscape. Or, maybe it's not light you need, but less of it — in that case, I have options for shielding you from the sun, so you can while away the afternoon comfortably. Go ahead and pick up a few of these clever outdoor products, then get out there and enjoy your yard.