40 surprising little mistakes you're making that you'll wish you realized sooner
Solutions that'll make your day-to-day easier.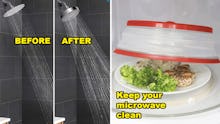 Amazon
We may receive a portion of sales if you purchase a product through a link in this article.
For years, I grumbled and complained about the shower in my apartment. I even considered paying for expensive plumbing to fix it because a weak shower is no way to start the day. When I moved, the first thing I did was check the shower of any potential dwelling. Then I learned that this can easily be fixed with the right shower head. This was also during a time when I went to work and bought a take-out lunch every day, which led to a lack of funds (and a poor diet). I look back on the person I was and shake my head about all those mistakes that cost me money, made life less pleasant, and led to poor decisions and outcomes.
How about you? Are you making small mistakes that add up to hassles and expenses you don't need? I'll bet you're making at least one of these 40 surprising little mistakes that you'll wish you realized sooner.