3 tough discs that'll keep you & your dog busy for hours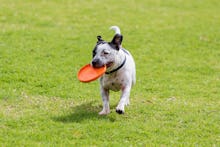 Robbie Goodall/Moment/Getty Images
As most dog owner's know, not every toy is designed for hours of back-and-forth retrieval with your pup's sharp teeth. That's why the best dog Frisbees are sized right for your pupper and made of durable, puncture-resistant materials that are just as comfortable for them to grip as they are for you to launch. Whether you go with a soft or hard disc depends on your personal preferences and how heavy of a chewer you have.
First, a note on the term "Frisbee": That's actually a copyrighted brand name for the version for humans sold by Wham-O. So when you're shopping, you will see models referred to instead as flying discs, but they all function in basically the same way.
When shopping around, the first thing to consider is the material. In terms of safety, lightweight, soft discs are your best bet if you're worried your dog might misjudge your throw and accidentally get hit by it. On the other hand, if your pup has infallible reflexes, traditional discs made of harder plastic are known for flying better and farther than fabric ones. They are also much tougher, making them the ideal choice for aggressive chewers. That said, if you plan to use your toy at the beach or lake, look for an option that's designed to float.
Beyond its general construction, the toy still needs to be easy for your dog to catch. Raised, textured edges or a cut-out in the middle may make it simpler for both humans and dogs to grip. The size of the disc itself can also impact your dog's willingness to play. Standard size options clock in at around 8 to 9 inches in diameter, which should work for most medium to large dogs. However, for smaller breeds, you may want to look for one that's closer to 6 or 7 inches in diameter.
Like most other chew toys for dogs, expect your disc to be covered in drool and dirt. To save yourself time, you may want to stick with one that's dishwasher-safe.
Now that you and your pup are ready to soar, here are the best flying discs for dogs you can buy on Amazon.
We only recommend products we love and that we think you will, too. We may receive a portion of sales from products purchased from this article, which was written by our Commerce team.