These earbuds are so comfortable you can actually sleep in them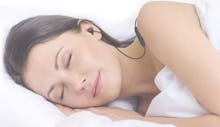 Amazon
Whether you prefer to listen to white noise, soothing music, or your favorite audiobook before bed, the best earbuds for sleeping will allow you to do so without disturbing others around you. They'll also help you block out the sounds of traffic or snoring. Earbuds for sleeping are ideal for improving your sleep routine and overall health. According to Psychology Today, listening to relaxing music with a slow tempo will help lower your heart rate and breathing to help you nod off more quickly. That said, comfort and practicality are huge factors, so not all sets are well-suited for sleep.
When you're on the hunt for the perfect pair of earbuds, consider design and size. Look for lightweight earbuds with an ergonomic design. Also consider getting multiple ear-tip sizes to help you find the best fit. If your partner snores, you live in a high-traffic area that's noisy at night, or you're traveling, earbuds with noise isolation or blocking features are also great to have. You'll want to make sure that any pair of buds that you choose is also compatible with your smartphone or other devices. If you move around a lot in your sleep, choosing a Bluetooth-enabled pair that can move with you easier than a wired set.
For help deciding, here's my roundup of the best earbuds for sleeping that you can buy on Amazon. And since earbuds don't totally cover the ears, I've included a wraparound sleeping mask for those who really need to block out noise (and light). All of these highly rated choices are great for listening to soothing sounds and sleeping the night away.