Here's everything you need to brew your own beer at home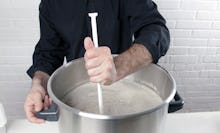 Hansgeel/Fotolia
The hardest thing about making your own delicious beer at home might just be getting all the right equipment. There are plenty of supplies that are small, easy to forget, but very, very necessary (think: bottle caps and a gadget that will seal them shut). Having one of the best home beer-brewing kits is your best bet to avoid getting to the end of your hour-long brew time and realizing you don't have the sanitizer necessary to clean the tub you'll be storing the beer in.
Whether you prefer to drink lighter or darker beers, your first batch of beer should probably be an ale. Ale yeasts' ideal fermentation temperatures are more or less room temperature (68 to 72 degrees Fahrenheit), rather than lager yeasts' 45 to 55 degrees, which typically require a cold basement or special cooling equipment. If you prefer a less hoppy beer, there are still many ale kits to choose from such as hefeweizen or another wheat beer.
After you've chosen your recipe, your next big decision will be all-grain versus extract brewing. Extract brewing saves you the time-consuming and often messy step of having to draw out the sugars in your grains, making it much easier and faster — ideal for beginners. However, the best brewing kits will also set the foundation for all-grain brewing, which gives you more choices and is typically cheaper.
With those considerations in mind, these are the best brew kits on Amazon with almost all the tools you need in one box to make brewing easy. As a first-time brewer noted in a review: "If you can make mac 'n cheese, you can brew your first batch of beer."