This $9 biodegradable sunscreens has a cult following on Amazon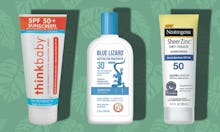 Amazon / Mic
When you're looking for the best biodegradable sunscreens, sometimes called reef-friendly or reef-safe sunscreen, it's all about zeroing in on formulas with ingredients less likely to harm the environment. Every year, 6,000 to 14,000 tons of sunscreen washes off beachgoers and others into coral reef environments, according to the Oceanic Society. Many of the chemicals commonly found in sunscreen can disrupt coral DNA and inhibit coral's ability to reproduce, cause deformities, and makes coral more susceptible to bleaching.
The two primary chemicals to avoid to prevent wreaking havoc on the oceans are oxybenzone and octinoxate. Hawaii has gone as far as to ban the sale of sunscreens containing the two chemicals in the state, though the law won't go into effect until 2021. And unfortunately, while aerosols can make sunscreen easy to apply, the Environmental Working Group (EWG) recommends that consumers avoid spray sunscreens since they can pose dangers when inhaled, while others note that spray sunscreens leave a bigger trace on the sand (and therefore more will eventually end up in the water).
To find the best sunscreens for the environment (and your health), opt for physical blockers — most commonly zinc oxide and titanium oxide. While some prefer sunscreens that advertise as "non-nano" since nanoparticles can also do harm to coral, the EWG notes to takes these statements with a grain of salt since "particle sizes vary among manufacturers, nearly all would be considered nanomaterials under a broad definition of the term." So don't leave your beach coverup far behind. Clothing and accessories like hats can dramatically limit the amount of sunscreen you need to apply while also keeping you protected. For outdoor activities like surfing or paddle boarding, look for rash guards and other clothes with an Ultraviolet Protection Factor (UPF).
To enjoy the sun and keep the environment safe and beautiful for years to come, the best highly biodegradable sunscreens have you covered.