These carbon steel woks let you make perfect stir fry at home — & they're built to last forever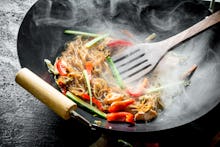 Shutterstock
Carbon steel is one of the most durable, nontoxic, and heat-resistant cookware options around, and the best carbon steel woks are perfect for whipping up homemade stir-fries, fajitas, and even popcorn.
Before you start shopping, it's worth considering a few key things in order to ensure you're getting the best one for your needs.
Wok size
Wok sizes typically range in diameter, from 12 inches up to several feet. Look to the size of your group (and your stovetop) to guide your choice here. For reference, a wok that's 12 to 14 inches in diameter is ideal for serving around four people. Larger woks can naturally serve larger groups, but keep in mind they might be harder to maneuver and store.
Design
Most woks have one long handle that sticks straight out just like any other frying pan handle (these are Northern-style woks), and sometimes they'll also have a loop handle on the opposite side. Others have two "loop" handles on opposite sides (these are Cantonese-style woks). Loop handles provide easy lifting — and storage since they allow the wok to be hung — but they may be a burn hazard for some. Stick handles are easier to maneuver for most people, and since they are often made from materials like wood or bamboo they typically eliminate the need for potholders.
Woks are either flat on the bottom or rounded, and there are pros and cons to each design. Flat-bottomed woks are the most versatile, since they work on all types of stoves, but it's slightly harder to use a wok spatula to move ingredients around with them. Round-bottomed woks are more traditional, and they offer more linear heat distribution. However, round-bottomed woks don't work well on electric or induction stoves, so they have more limited use.
A note on maintaining your wok
Carbon steel woks must be seasoned before their first use, unless you buy them pre-seasoned) and periodically thereafter. (For a step by step guide to the seasoning process, check out this video.)
With all this in mind, take a look at the best carbon steel woks below.
We only recommend products we love and that we think you will, too. We may receive a portion of sales from products purchased from this article, which was written by our Commerce team.