4 comfortable, durable pet beds that your large dog will love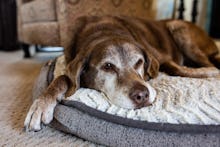 Cavan-Images / Shutterstock
If you're the owner of a big dog, you may already know their size can make them more susceptible to issues like joint pain and aches. But the best dog beds for large dogs help cushion and cradle their bodies so they can rest comfortably. A dog's size is primarily classified by weight, and a large dog is generally defined as between 50 and 100 pounds. Giant (or extra large) dogs, clock in at more than 100 pounds.
When it comes to beds, dogs have different needs based on their health, age, and behaviors. As you're shopping for a large dog bed, consider which type suits your pup the best. Any dog can benefit from a comfortable orthopedic bed, but this option is especially beneficial to large dogs who commonly struggle with joint issues, as well as senior dogs and dogs recovering from medical procedures. Orthopedic dog beds are made with foam that's soft to the touch but offers plenty of support and won't go flat over time.
If your dog is crate-trained, you may want to purchase a dog pad, which is designed to fit perfectly inside it and should offer a softer surface than those old towels you have lying around.
Dogs who prefer burrowing deep in bedding, or nesting, will enjoy snuggling into a cave bed, which has a built-in hood for total comfort.
An elevated dog bed, or cot, is raised off the ground and keeps your dog cool, making it a great option for warm weather or shaggier dogs who run hot. Elevated dog beds that are made of durable materials like aluminum and nylon are often hardy enough for outside use, and they can stand up to dogs who tend to dig or chew.
From heavy-duty outdoor cots to cozy indoor caves, these are the four best beds for large and extra large dogs.
We only recommend products we love and that we think you will, too. We may receive a portion of sales from products purchased from this article, which was written by our Commerce team.