The 4 best electric gooseneck kettles for foolproof pour-over coffee at home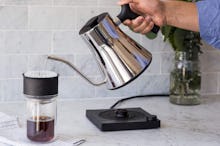 The art of making the perfect cup of hand-brewed, pour-over coffee starts with the right equipment, and choosing the best electric gooseneck kettles for pour-over coffee will help get you there. The top models are made from stainless steel, heat up quickly, and have a variable temperature control setting so your water is exactly as hot as you need it. They also have a precision spout for controlled pours and come in the ideal size for your needs.
To get started finding the right one, consider the following:
Temperature settings
An electric kettle for coffee that's equipped with a temperature dial will make it easy for you to get your water to the optimal range for rich and smooth pour-over brews (195 to 205 degrees Fahrenheit). In addition, a built-in "hold" function lets you you maintain a precise water temperature for longer. That being said, if you're not that particular about your coffee or just want an inexpensive model, a basic gooseneck kettle that heats water to boiling will still suit your needs — you can use a food-grade thermometer to check on the temperature or simply let your water rest for 30 seconds after boiling to get it to the right heat for brewing.
Wattage
There may be times when you want your caffeine fix in a hurry so keep in mind a kettle's wattage while you're shopping. While it won't necessarily affect the outcome of your brew, generally a higher wattage means a shorter boiling time.
Capacity
The average electric gooseneck kettle holds around a liter of water (or about 34 ounces), which is about the size of four standard (8-ounce) cups of coffee. If you prefer larger pours, consider going with a bigger model. However, if you're short on storage space or like to take your barista skills on the road, consider a travel electric kettle.
With that said, you'll find the best electric kettles to perfect your pour-over coffee technique below.
(Tip: For the most delicious brew possible, pair your kettle with one of the best pour-over coffee makers.)
We only recommend products we love and that we think you will, too. We may receive a portion of sales from products purchased from this article, which was written by our Commerce team.