These reef-safe sunscreens can help you reduce your environmental impact at the beach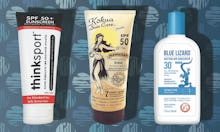 Amazon / Mic
Did you know that that most traditional sunscreens contain two ingredients — oxybenzone and octinoxate — that are harmful to coral reefs and marine life? When you go swimming in the ocean wearing one of these sunscreens, the chemicals leak into the water where they can cause irreversible damage. That's why it's so important to make sure you're using one of the best reef-safe sunscreens anytime you hit the beach. These will typically be mineral sunscreens, which use ingredients like zinc or titanium dioxide for their sun protection, instead of those environmentally harmful and potentially irritating chemicals.
Unfortunately, just like how there isn't any real government regulation behind beauty products that claim to be "natural" or "organic," the same goes for brands that slap the term "reef-safe" on their labels. Similarly, there's still a ton of research yet to be done on other ingredients used in sunscreens that might also be harmful to coral reefs and marine life. That being said, avoiding products that contain oxybenzone and octinoxate is a good place to start. Also, look for mineral sunscreens that say they're non-nano (or non-nanotized). This basically means they pose less of a risk to marine life since their particles are larger, and therefore more difficult to be ingested or absorbed by marine life.
To help get you started on your quest for a more environmentally friendly sunscreen, here are four of the best reef-safe formulas on the market, below.