If you like vino, these top-rated wine refrigerators are life changing (and one is under $200)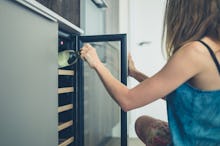 Lolostock / Shutterstock
While there are many options to choose from, the best wine refrigerators store your wine at the recommended temperature, which is generally between 50 and 68 degrees Fahrenheit for red wine and between 42 and 50 degrees Fahrenheit for white. The first thing you'll want to decide on is whether you prefer a single-zone or dual-zone model. True to the name, a single-zone model holds one temperature at a time while a dual-zone model lets you store bottles at two different temperatures.
Wine refrigerators come in a range of sizes, and choosing between them is a matter of personal preference — but a good rule of thumb is to pick a fridge that is capable of storing at least twice the amount of wine that you currently own if you want to continue expanding your collection.
But internal capacity isn't the only reason to pay attention to the size of your fridge: You'll also need to think about how it will fit into your home. Pay careful attention to the dimensions of your fridge and the space where you plan to stash it. Freestanding refrigerators can be placed anywhere, but if you want a built-in look, be sure it'll fit in a dedicated space alongside your counter or cabinets. Counters are typically 25 inches deep, which means built-in refrigerators are a similar depth to sit flush or nearly flush with the front of the counter. These models frequently can also be used freestanding, though, so they don't necessarily have to be placed in a counter cutout.
Beyond size, consider the additional features that would be helpful, like adjustable shelves, security locks, and interior LED lights. To help narrow down your options, read on for my roundup of the best wine refrigerators to protect and store your collection in style.
We only recommend products we love and that we think you will, too. We may receive a portion of sales from products purchased from this article, which was written by our Commerce team.