These headphones are so comfortable you can actually wear them to bed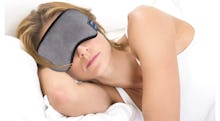 Amazon
If you want to listen to relaxing music or white noise throughout the night, or if you're planning a trip or have other sounds you want to block out, you'll need one of the most comfortable headphones to sleep in. They're a scientifically proven way to improve your quality of sleep. According to Psychology Today, the slow rhythmic melodies of relaxing music can help to lower your heart rate and breathing to get you into a state better suited for a restful night's sleep.
Sleep headphones also make it easy to listen to your favorite music, calming meditation, or even watch a movie right before bed without disturbing those around you on the road or at home. Additional features like noise cancelation or isolation are also great to have, especially for traveling or if you are trying to block out street noise or snoring.
Sleep headphones come in a variety of styles, from headband to earbuds. The best choice for you depends on how you sleep. For example, headband headphones provide the best fit and a good choice for most situations, but they can get hotter than earbud styles so they might not be the best choice for hot sleepers. For those that don't like wearing anything around their head, in-ear headphones are a good option, too.
To help you fall asleep faster, here's my list of the most comfortable headphones to sleep in. All of these picks have the playtime, comfort, and noise-blocking abilities you need for nodding off to soothing sounds comfortably through the night.