How to choose a backpack that's comfortable & supportive, according to an expert — plus 5 highly rated options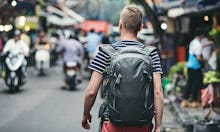 Jaromir Chalabala/Shutterstock
Whether you're an avid hiker, a student with a ton of books to lug around, or a commuter with a heavy load, aches and soreness can be an unfortunate side effect of carrying a backpack. The best backpacks for back pain can help solve this problem by evenly distributing weight with the help of adjustable shoulder, sternum, and hip straps. Ventilated back panels and lightweight designs also make them more comfortable to wear.
According to Matt Pippin, an NSCA-certified strength and mobility coach, "A loaded backpack should not weigh more than 20 percent of your body weight — this usually refers to people who are doing day long hikes. For normal day to day use like commuting around the city or to school, lower that to between 10 and 15 percent."
With that in mind, consider the size of a backpack in relation to your own body. Pippin recommends fitting a backpack to the length of your torso rather than your height, since a taller person can still have a short torso, and vice versa.
"The top of your bag should be in line with the top of your shoulders. The lower the bag sits on your back, the more stress on the lower back," Pippin adds. He also notes that it's important to make sure that there's not too much space between your spine and the backpack, as that could put additional stress and tension on your lower back.
Other factors you might want to consider include compression straps if you plan to carry a lot of weight, and whether you'd prefer an option with or without a frame. A backpack with a frame will typically offer the most support. The tradeoff is that it will likely be heavier and more rigid than a frameless model.
In general, you'll want a backpack that isn't too heavy on its own, since you'll be adding additional weight when you pack it. Also, look for wide, adjustable straps that curve away from the neck (all of the options below have this feature). Of course, if you have chronic pain or are recovering from a back injury, you should talk to your doctor to get more tailored recommendations.
With all of this in mind, read on for five backpacks on Amazon that are comfortable and supportive. And, after you purchase your new backpack, make sure to adjust the fit.
We only recommend products we love and that we think you will, too. We may receive a portion of sales from products purchased from this article, which was written by our Commerce team.