6 beard oils that promote healthy (and itch-free) hair growth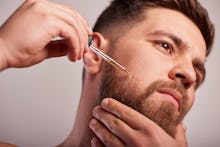 Shutterstock
Facial hair grows at different speeds and thicknesses for everyone, so when you're trying to turn stubble into a full-fledged beard, patience will be key. Beyond that, you can turn to the best beard oils for growth to get a jumpstart on your grooming goals. These specially formulated products will typically have a very simplified list of all-natural ingredients, which are all intended to keep your mane moisturized and protect the skin underneath it.
You'll probably notice a theme when you start to look at the labels of the best beard oils — they all contain a handful of natural carrier oils like jojoba, olive, almond, and grapeseed. While these are all lightweight multitaskers that offer a dose of (non-greasy) moisture to your beard, you may want to look beyond the baseline if you have specific needs in mind. For example, lavender and patchouli are essential oils that are known for combating itchiness. Similarly, tree tea oil can help treat dandruff (aka "beardruff") and also has proven acne-control benefits. And if you have sensitive skin, opt for an elixir that's completely free of essential oils, which can cause irritation for some people.
There are also many scents to choose from, so it helps to read the ingredients list as well as the reviews when possible. Many brands avoid synthetic fragrances and instead use essential oils to create distinctive aromas. Of course, if you prefer not to have any noticeable odor, go with an unscented option.
Below, you'll find a list of the best beard oils you can buy on Amazon. To experience the full benefits of one of these facial hair conditioners, you'll want to work it into both your hair and skin when you apply, and make a habit of using it at least every other day.
We only recommend products we love and that we think you will, too. We may receive a portion of sales from products purchased from this article, which was written by our Commerce team.