5 cheap bikes that are highly rated on Amazon (including one that's under $250)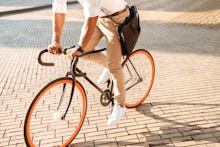 Shift Drive / Shutterstock
Whether you're a novice cyclist or simply on a budget, the best cheap bikes can get you where you need to go. But not all bikes are right for all types of use. Hybrid bikes are a great go-to for comfortable, casual riding. Pared-down fixed-gear bikes take some practice to master, but require relatively little maintenance over time. Road bikes can be pricier than other types of bikes, but they're the optimal choice for speed on paved roads. Durable mountain bikes are designed to expertly handle off-road conditions. And if storage is an issue, a folding bike will take up less space in between uses.
Budget-friendly bike frames are commonly made of aluminum or steel. Steel is more durable than aluminum, but it's also heavier — so if weight is a concern, opt for an aluminum frame. A cheap bike may have limited features compared to more expensive models, but many still offer name-brand "groupsets" (the mechanical components that make the bike move). A multi-speed bike is widely appreciated for helping riders find comfortable pedal resistance across different terrains, but fixed-gear bikes with just one speed have become popular, and some riders find that they're easier to control in urban settings.
There's no substitute for test-riding a bike at a store, but looking closely at particular model's specifications with your own measurements in mind can help you choose the right size. For each bike, make sure to read the size chart and the bike's listed dimensions, as manufacturers can measure bikes differently. While many are sold as unisex models, women's bikes sometimes feature different proportions. Your own needs and measurements should determine the size and type of bike you get, regardless of how it's categorized.
Can you spend upwards of $10,000 on a bike? Sure. But it's also possible to find a reliable bike for a fraction of the price. Here are some options to get you started.
We only recommend products we love and that we think you will, too. We may receive a portion of sales from products purchased from this article, which was written by our Commerce team.