The best face scrubs for guys — and why you might want to use one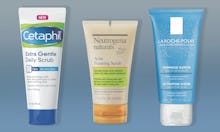 Amazon/Mic
If you sweat during the day, work outdoors, or have just been experiencing clogged pores, it's probably time to start exfoliating your skin. One easy way to make this a habit is to stock your shower with a good face scrub — one that you'll actually enjoy using. But given all the options out there, shopping for a grooming product that will work for your skin can feel overwhelming. No matter: Ahead, a handy guide to the best face scrubs for men.
Before you start scrubbing away, there are a few things to know. A lot of face scrubs are filled with heavy-duty exfoliators, which means they don't need to be used every day. In fact, over-exfoliating your skin can lead to irritation, so try limiting your face scrub sessions to a few days a week, especially in the beginning. Once you've seen how your skin reacts, you can start using one every other day.
If you have sensitive skin (maybe your face is prone to redness or you break out easily), be careful with the scrub you choose since some of them can be very abrasive. Below, you'll find a few gentle options that are sensitive skin-friendly — as well as a face scrub for daily use, a formula that treats acne, and an all-natural cleanser infused with coffee grounds.