A definitive guide to the best shaving creams for men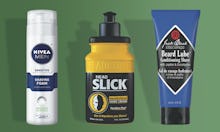 Mic/Amazon
Whether shaving is a daily habit or you only occasionally break out your razor, nicks, ingrown hairs, and red bumps are an all-too-common struggle for many. And while using the right razor is key, finding the best shaving cream for men is also essential to getting a close, clean shave without the irritation.
Since shaving can strip moisture from your skin, you'll want to make sure to choose a shaving cream that says it's hydrating or moisturizing; this will also help keep bumps and burn at bay, and your skin will feel more comfortable afterwards. If your skin is on the sensitive side, you'll want to avoid products that contain fragrance, dye, or alcohol, as these can all cause irritation.
Of course, a lackluster (or worse: painful) shave could also come down to not following a few key steps. If you're in need of a quick refresher, always remember to start by using warm water on your face to help soften your skin and hair (shaving right after a shower is best). Once you apply your shaving cream to your face, you'll want to let it sit for a few minutes before going in with your razor because it allows the formula to soften your hair even further for an easier shave. Then, be sure to shave in the direction your hair grows, and rinse off your razor after every swipe to minimize irritation. And, don't forget to change out your razor with regularity (every 5 to 10 shaves, according to Men's Health).
To help get you started, here are five of the best shaving creams available on Amazon.