These are the 5 best sleep trackers on Amazon — & one's just $38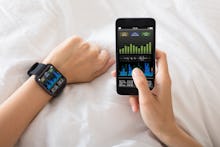 Shutterstock
When armed with insights from a reliable sleep tracker, you can make adjustments to your lifestyle that'll help you get a better night's rest. The best sleep trackers monitor heart rate, movement, and sleep cycles, and display those stats in an app you can access via your smartphone. They come in a wide range of styles, including headbands, fitness trackers, and under-mattress pads, and some models offer some helpful extras, like blood oxygen saturation (SpO2) monitoring, guided meditation, or sleep advice.
The first decision to make is the type of sleep monitor you're looking for. It helps to have a better understanding of the pros and cons of each one:
Fitness trackers: A cost-effective and versatile option, these smartwatch-style trackers monitor both your sleep and your daytime activity. They'll also alert you about phone notifications, and some even allow you to make calls right there on the device.
Sleep headbands: These are more of an investment, but offer more sleep-focused features. For example, besides basic monitoring, the headband on this list offers tailored sleep advice, guided meditations, and soundscapes, and even uses feedback from your body to optimize these relaxation features, making it a truly customizable device.
Under-mattress trackers: If you'd rather not wear anything on your body, you can slip an affordable tracking mat under your mattress. It offers fewer insights, but you won't even know it's there, which can be a plus for light sleepers.
Next, you'll want to consider features. While all the options on this list track basics like heart rate, movement, and sleep cycles, some have upgraded capabilities, like monitoring snoring and SpO2, the latter of which can be helpful if you think you may have sleep apnea. And if you're willing to make an investment, you can opt for a tracker with features that'll help train your body to sleep.
While sleep trackers can help you get a picture of your nighttime rest, it's always a good idea to consult with a doctor if you're concerned about your sleep patterns. With that in mind, these are the best sleep trackers on Amazon.
We only recommend products we love and that we think you will, too. We may receive a portion of sales from products purchased from this article, which was written by our Commerce team.