These are the best socks for hiking, according to people who have put the miles in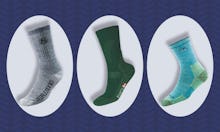 Amazon/Mic
When you're taking in the majesty of the outdoors (or just the sights around a neighborhood), you're too busy to waste time worrying about your feet. That's why having the best socks for hiking are essential. The right socks will provide support, wick away moisture, and, most importantly, minimize blisters.
The first thing you'll want to consider when it comes to choosing the best socks is material. Walking around with damp feet in a shoe is a recipe for blisters, which is why wool hiking socks are the gold standard. Wool absorbs and wicks moisture, provides cushioning, and if you get a smooth wool like Merino, isn't scratchy. And though wool usually brings to mind cozy sweaters, because it's relatively quick drying, it can also make for a great warm weather hiking sock or a good option for people with sweaty feet.
But don't ignore well-considered synthetics like nylon and Lycra which can be cheaper, provide extra stretch, and help feet dry quickly, too. Those are also reasons why they're often combined with wool. However, you'll want to avoid cotton for hiking. While the material absorbs sweat, it is also slow to dry, making it more likely to give you blisters.
Next, you'll want to consider sock height. You want a sock that will cover your ankles an inch or two beyond where your shoes stop to prevent rubbing and, again, blisters. That means an ankle-length sock might work with trail runner shoes, but for lace-up boots, you'll want a crew or knee-high length. If you'll be venturing out to an area with the likes of poison ivy or burdock, consider a higher sock for protection, too.
With those considerations in mind, and after consulting the comfort enjoyed by thousands of real-life customers, the best hiking socks on Amazon, below.