5 zero-waste toothpastes that'll make your hygiene routine more eco-friendly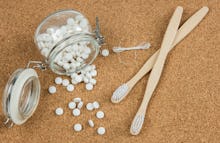 Shutterstock
Anyone who wants to reduce their carbon footprint knows that sometimes even a small change in habits can make a big impact. The best zero-waste toothpastes come in a variety of effective forms — from tablets to powder — and are packaged in recyclable or reusable containers.
The main thing you'll need to decide is which kind of toothpaste you prefer:
Paste: Likely the most familiar in terms of texture, this type comes in either a recyclable metal tube or a reusable glass jar. The latter is more environmentally sound, but when you consider that you need to use (and keep track of) a scooper to get the product onto your brush, it may not be quite as user-friendly.
Tablets: Toothpaste tablets are pricey but worth it if you're looking for a truly sustainable oral care option. Often packaged in glass jars or compostable bags, they're travel-friendly and pre-portioned to minimize product waste. Just note that the brushing experience may take the most getting used to.
Powder: This type of toothpaste comes in a glass jar and requires you to dip your damp toothbrush inside to get it to stick, which means it's fairly messy and not the most sanitary option if you're sharing it with others. However, a little goes a long way, which means the soft, abrasive powder can be very cost-effective.
No matter what type you go with, they should all be effective at plaque removal, which is why you'll find baking soda is commonly included. Many options also include cavity-inhibiting xylitol, along with a variety of refreshing flavors usually sourced from essential oils (like peppermint). Most are fluoride-free, but since the American Dental Association (ADA) recommends using a toothpaste with fluoride, you may want to go that route instead. Either way, it's a good idea to talk to your dentist before making any changes to your routine.
Products that get recycled do need to be clean, or else they can get tossed out at the recycling plant and still end up in a landfill. So, if your goal is to go truly zero-waste, keep in mind that reusable packaging is always the better option.
With that in mind, I've rounded up the best zero waste toothpastes on Amazon below.
We only recommend products we love and that we think you will, too. We may receive a portion of sales from products purchased from this article, which was written by our Commerce team.