7 exercise mats on Amazon that users swear by — for every type of workout need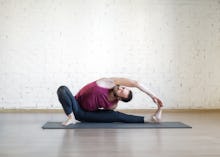 Shutterstock
From yoga sessions to high-intensity workouts and even cool-down stretches after a brutal run, a quality exercise mat can add comfort and stability to any workout routine. The best exercise mats provide cushioned support for your knees and joints to prevent aches and pains, all while protecting your floors from heavy equipment like dumbbells.
When choosing an exercise mat, there are a few key things worth thinking about:
Texture: If you practice yoga, you'll definitely want a nonslip mat with good traction on both sides. This will keep your hands and feet from slipping during poses like downward dog and keep the mat from moving around on your floor. And while some mats can get a little slippery with sweat, a nonslip texture can keep your hands in place no matter how heated you get.
Thickness: Thicker mats are great for high-intensity workouts that involve a lot of jumping. The extra cushioning absorbs impact and protects your knees and joints, especially if you're exercising on hardwood floors. They're also great if you have sensitive knees or prefer a softer surface during floor exercises like sit-ups or crunches. Thinner versions, on the other hand, are much more portable and lightweight.
Size: If you're tall, be sure to look for a mat that's at least 70 inches long. Some extra-large mats are designed for a lot of moving around, like with P90X workouts. Others come with interlocking pieces that fit together like a puzzle. These are great for covering large spaces, like a home gym, or putting under heavy workout equipment.
Portability: Mats that roll up and come with a carrying strap are typically the easiest to take with you to the gym or a class.
Whether you're setting up a home gym or prefer a mat to take on-the-go, these are the best exercise mats for your next workout — and they're all highly rated and offer plenty of comfort and support.