7 comfortable gym shorts you'll actually want to wear during your next workout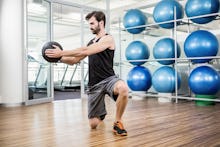 Shutterstock
Did you know that what you wear during your workout can help make a difference in how you perform during it? In particular, gym shorts that are too long or too tight can make exercising uncomfortable and even curb your performance. Among the things to bear in mind when you set out to pick the best gym shorts, you'll want to first consider the type of physical activities you prefer and what length you're comfortable with.
Jogging, cardio and/or circuit training workouts: When you know you're going to be jumping, moving, and getting your heart rate up, shorts that have a 7-inch inseam are ideal because the shorter inseam helps prevent fabric from getting in the way while you move.
Weightlifting, resistance training, and/or yoga: For more stationary routines where the goal is to focus on muscle building or balance, look for shorts with an inseam of 9 inches or longer. That way you'll get fuller coverage, yet still have plenty of room to bend and squat. Longer styles with a built-in brief liner can provide even more support for things like squatting to pick up weights.
High-intensity workouts: The length of your shorts may not be as important as the material when it comes to the most extreme or longer duration workouts like CrossFit or marathons. You'll want to consider compression garments, which feel like stretchy spandex but are made from a material that specially molds to your body. Studies show that this type of added pressure can help improve your endurance and even speed up recovery time between workouts.
To help find the right fit for your workout, I've scoured Amazon to come up with the best gym shorts. With high star ratings and corresponding glowing reviews, these are some of the best out there.