7 IPA glasses that maximize the flavor of your brew
We only recommend products we love and that we think you will, too. We may receive a portion of sales from products purchased from this article, which was written by our Commerce team.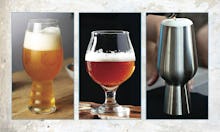 Mic / Amazon
If you're a fan of IPAs, you probably know that the right glass can make a beer taste better. The best IPA glasses do just that, and they typically feature a tapered lip to capture the aroma and maximize the flavor. Serious fans of the hop-forward beverage will want to opt for glasses made specially for IPAs — but if you just dabble in IPAs or want a glass that'd also work for other beers, there are versatile options that can serve you well.
An IPA glass is a specific type of barware, designed specially to enhance an IPA's flavor. A top-of-the-line option will feature a tapered bowl to enhance the aroma of the beer, along with nucleation points and a ridged base. Nucleation points are small etchings at the bottom of the glass — these etchings, along with the ridged base, help to aerate the beer while you sip.
If you are on a budget or choosing an option that's made of plastic or stainless steel, you might have to sacrifice some of the finer points of an IPA glass, including the nucleation points and ridged base. While ones made out of real glass are the go-to for most beer enthusiasts, other designs have their perks, too. Those made of plastic are a durable option that can look like glass but feel safer for outdoor use or group gatherings (where they might get dropped or knocked over). Alternatively, glasses made with insulated stainless steel are also durable but can prevent condensation and keep drinks cool for longer.
If you enjoy drinking beers other than IPAs, you might prefer a versatile Teku, tulip-shaped, or imperial pint glass. The Teku glass is a unique one-size-fits-most option for a variety of beers, including IPAs. Tulip glasses are commonly used for double IPAs and other beers with high alcohol content as well as Belgian beers, while imperial pint glasses are a solid option for standard IPAs and the vast majority of other beers.
With all this in mind, scroll on for the six best glasses for drinking IPAs — all of which you can buy on Amazon.
Shop the best IPA glasses
In a hurry? Here are the best IPA glasses:
1. The cult favorite
If IPAs are your go-to beers, Spiegelau's IPA glass is a worthy investment. Designed in collaboration with breweries Sierra Nevada and Dogfish Head, it ticks all the boxes for an IPA glass: A bulbous shape that tapers inward, a short ridged stem, and nucleation points at the bottom of the glass. One Amazon reviewer described their Spiegelau glasses as "THE glasses to properly enjoy an IPA." It holds 19.1 ounces, and the manufacturer indicates it's dishwasher safe, too. However, multiple reviews have recommended hand washing the glass to preserve the lead-free crystal. It's available in singles or sets of four.
One reviewer wrote: "Really like this glass. Have plenty of beer glasses, but somehow this just brings out more in a lot of beers, especially hoppy NEIPA."
Type: IPA glass | Material: Lead-free crystal | Capacity: 19.1 fluid ounces
2. A pair of IPA glasses under $25
If you could use a set of dedicated beer glasses and would like to save a few bucks, look no further than these highly rated Luigi Bormioli IPA glasses, which boast a 4.8-star overall rating. Each glass holds 18.3 ounces and has a tall bowl that tapers inward toward the lip. Unlike the previous selection, these glasses lack a ridged base — but the nucleation points at the bottom do a fine job at amplifying your beer's flavors, according to reviewers. One Amazon reviewer wrote that the "crisp and complex flavor profile of craft is really brought out by these glasses." While the manufacturer specifies that they're dishwasher safe, these are glasses you'll want to handle with care — some reviewers have mentioned they're a bit fragile.
One reviewer wrote: "I love them, mostly use them with Pales, IPA's, and DIPA's. The Fluting brings the nose right to you while keeping the drinking easy and clean. The nucleation from the etched bottom is perfect, better than any brewery pint or tulip I've gotten with etching. Highly recommend for Pales, IPA's and DIPA's. Been good for the Gose's, Sour's and Farmhouse's I've had in it as well."
Type: IPA glass | Material: Lead-free crystal | Capacity: 18.3 ounces
Also available on: Bed Bath & Beyond, $25, and Nordstrom, $25
3. The best all-arounder
Beer glasses come in all shapes and sizes, but Rastal's Teku Beer Glass is a versatile, critically acclaimed choice for practically every beer, including IPAs. It's designed with a bell-shaped — albeit slightly angular — bowl and a long stem reminiscent of a wine glass. While the wine-glass shape might deter some folks, the stem comes in handy for keeping beer cool since you don't have to grasp the base of the bowl with your hands. This glass doesn't have a ridged base, but it does feature nucleation points at the bottom to provide a nice cap of foam. A bit smaller than the other glasses on this list, it holds only 14.2 ounces of brew. And, while it's technically safe to run through the dishwasher, users have had better luck washing it by hand.
One reviewer wrote: "A nice all-around vessel that enhanced the flavor and depth of a couple different styles of IPAs I poured. Was looking for something thin (closer to wine crystal), and this indeed is thinner than bar-variety glassware. But it's not so delicate that it'll shatter from regular, reasonable washing technique."
Type: Teku glass | Material: Glass | Capacity: 14.2 ounces
4. The insulated glass
A warm beer can totally downgrade your IPA-drinking experience — and Outset's IPA beer glasses are designed to nip that problem in the bud. The insulated glasses are constructed from double-walled stainless steel to keep your IPA cold, so you can really sip and savor your brew at your own pace. While they don't have a ridged base or nucleation points, they are otherwise shaped like traditional IPA glasses. They come in pairs, and they each have a maximum capacity of 16 ounces. Reviewers have recommended washing these glasses by hand rather than in the dishwasher.
One reviewer wrote: "Great size and great for a beer fan. I put them in the freezer and they keep beer chilled."
Type: IPA glass | Material: Stainless steel | Capacity: 16 ounces
Also available on: Walmart, $30, and Lowe's, $38
5. The shatterproof plastic glass
If you plan on drinking your beer outdoors or need glassware that can survive the occasional party foul, these outdoor beer glasses are made to stand up to dings and drops. While they look like glass, they're actually made out of shatter-resistant, BPA-free Tritan plastic. They hold 18 ounces each and come in a pair. Unlike your single-use party cups, these are reusable — just chuck them into the dishwasher when they're dirty. Like their glass-made counterparts, they feature a tall bowl that tapers inward toward the lip (though they don't feature a ridged base or nucleation points).
One reviewer wrote: "My husband loves these style of IPA glasses, but we had only ever purchased glass ones. The glass ones are so thin and we have broken too many to count. These are a plastic material which [has] been a lifesaver! No more picking up tiny shards of glass when they fall off the counter and shatter everywhere! They wash well, have held up well, and are perfect for the outdoors! We love them!"
Type: IPA glass | Material: Tritan plastic | Capacity: 18 ounces
Also available on: Walmart, $21
6. The tulip glass
Tulip glasses are great at bringing out the flavors of Belgian ales, but they're also a solid choice for strong beers like double IPAs. One reviewer confirmed that the glasses are "quality, inexpensive, [and] perfect for a double IPA and high alcohol content ales." Each 16-ounce glass features a tulip-shaped bowl so you get the aromas with smooth sides (not nucleated or ridged). They're machine washable, and users have described them as sturdy. Snag them as single glasses or a four-pack.
One reviewer wrote: "These glasses are perfect. Having become a bit of a beer fanatic over the years I've come to find that the glass you pour your beer into greatly affects the taste of the beer! Without question I find that especially IPAs taste far better in a goblet than any other glass I use [...] Great quality, great price!"
Type: Tulip glass | Material: Glass | Capacity: 16 ounces
Also available on: Walmart, $22, and Wayfair, $34
7. The imperial pint glass
If you prefer a classic pint glass for your beer, these imperial pint glasses could be a great fit. Sure, they might look like ones you'd find at the pub, but unlike the standard straight-sided option, this one can work well for IPA beers, too, since it's designed with a tapered lip and a rounded curve beneath it. The rounded shape also makes it easier to hold, which is important since this glass can hold a lot of beer at once — 20 ounces, to be exact. It lacks nucleation points and the ridged base of an IPA-specific glass, but the slightly wider mouth can help bring out the aroma of your brew.
While it might not be ideal for high-alcohol IPAs, reviewers have attested it's a solid option if you're looking for a go-to pint glass.
One reviewer wrote: "Always nervous about glassware given its fragile nature, but these have held up well. Multiple cycles in the dishwasher and no danger of cracking. Perfect for a nice ESB or hazy IPA."
Type: Imperial pint glass | Material: Glass | Capacity: 20 ounces