The key to choosing an effective joint supplement for your dog, according to a vet — plus 7 popular options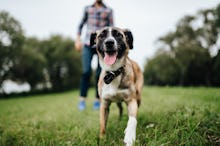 Shutterstock
If you're noticing your dog is limping or less mobile than they used to be, you should consult with your vet to determine if a medication might be right for them. If your vet thinks a supplement will help to relieve daily discomfort, you'll want to find the one that includes proven ingredients. According to Dr. Sara Ochoa, DVM, a small and exotic animal veterinarian and a veterinary consultant for DogLab, the best joint supplement for dogs contain glucosamine and chondroitin, as these naturally occurring compounds found in healthy cartilage help increase joint fluid. Omega fatty acids can also be beneficial, Dr. Ochoa tells Mic, since they help make this fluid easier to move around in the joint capsule.
"As soon as you notice any joint issues, you should start giving your dog these supplements," Dr. Ochoa says. "I always recommend that large breed dogs take them as soon as they are an adult. Many people are giving their dogs treats anyway, she adds, so "why not give them something that also helps improve their quality of life?"
Keep in mind that before choosing a supplement, pet owners should pay attention to the serving sizes (they vary based on a dog's weight) as well as the ingredient list for any potential allergens that your dog might be sensitive to. And always check with your own vet first before starting your dog on any new supplement.
You'll find a list of the best joint supplements for dogs that you can find on Amazon below. Beyond the inclusion of glucosamine and chondroitin, you will also find some chews with additional benefits for your pup.
We only recommend products we love and that we think you will, too. We may receive a portion of sales from products purchased from this article, which was written by our Commerce team.