7 treatments for athlete's foot that actually work, according to reviewers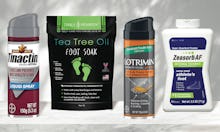 Amazon/Mic
Despite the name, athlete's foot can affect anyone — and if you've got it, you'll no doubt want to relieve your irritated feet ASAP. The best treatments for athlete's foot contain antifungal and skin-soothing ingredients to fight the infection and help relieve symptoms like itching, burning, and dry, cracked skin.
Athlete's foot treatments come in various forms: creams, sprays, powders, wipes, and foot soaks. The right choice will mainly depend on which application method you prefer and whether or not you want to use an over-the-counter antifungal medication or natural essential oils. No matter what, you'll want to keep your specific needs in mind. A fast-acting cream will do the trick in many cases, but if you have sweaty feet, you'll want to opt for an absorbent powder or powder spray to keep you dry, since fungus thrives in moisture. And if the fungus has spread to your toenails, you may want to go with an antifungal essential oil foot soak that addresses your skin and nails at the same time.
After your athlete's foot has gone away, you can prevent recurring infections by regularly using a powder or spray in your shoes or socks. You may also want to consider wearing shower shoes if you rinse off in communal spaces, like a gym locker room. And while most cases respond well to antifungal treatments, you should always check in with your doctor if symptoms of athlete's foot persist.
With all that in mind, read on for the best treatments for athlete's foot, which are all available on Amazon.
We only recommend products we love and that we think you will, too. We may receive a portion of sales from products purchased from this article, which was written by our Commerce team.