The 50 cheapest, most clever ways to upgrade your home
These upgrades are nice and easy, too.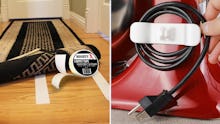 Amazon
We may receive a portion of sales if you purchase a product through a link in this article.
Upgrading your home may sound like a huge project, but something as simple as switching out your drawer pulls and light bulbs can take your dwellings to another level. Or maybe you're looking for a bigger upgrade and need a spray painter to get the job done. After all, a simple paint job can really breathe new life into any room. Whatever change you're trying to make, I'm almost certain Amazon has clever ways to make your place better. And at an affordable price too.
You can transform your space into a smart house for less than $30 with things like this automatic soap dispenser and voice-controlled light dimmer — no contractors or interior designers needed. These 50 items help you avoid big bills but still enjoy modern and convenient additions. And that's why once you're done scrolling and shopping, you'll feel as though you just walked into your dream home.