The most genius problem-solving products with near-perfect Amazon reviews
What problems? These gems will fix those right up.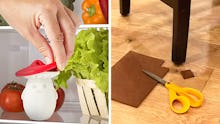 Amazon/Mic
We may receive a portion of sales if you purchase a product through a link in this article.
If you're trying to find innovative solutions to everyday problems, thousands of items and devices are out there, all claiming to be the answer. Unfortunately, it can be hard to separate the truly genius products from the rest — and that's where customer reviews on Amazon come in handy. When it comes to buying a tried-and-trusted product, online reviews are the new word-of-mouth. With the help of honest feedback, you can uncover the most brilliant problem-solving products that have garnered near-perfect ratings.
From gadgets that organize your home to gizmos that help in the kitchen, I've put together a list of products that have earned their reputation as problem-solving champions. Scroll on to discover a range of innovative solutions that will make your life easier.