The most popular things on Amazon that people are buying to save money
Money-saving products with rave reviews.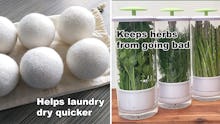 Amazon
We may receive a portion of sales if you purchase a product through a link in this article.
Whether you're saving up for something or are just trying to cut back on your spending, Amazon has a bunch of easy ways to save money by making small swaps in your day-to-day routine. There are accessories that can help you cut back on how much you order takeout, items designed to give extra life to the stuff you already have, and reusable things that'll reduce the number of single-use products in your home.
To help cushion your savings, scroll on for this list of popular products on Amazon that reviewers swear by to save some dough.