These cheap things on Amazon are so damn good at helping you get fit
These home fitness products are so much cheaper than a gym membership.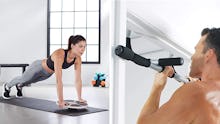 We may receive a portion of sales if you purchase a product through a link in this article.
You don't need a ton of cash or some dramatic epiphany in order to be inspired enough to actually start working out — all you need are these cheap machines, tools, and accessories from Amazon.
Whether you're a beginner who is looking for guidance on where to start (and how) or a pro that wants to step up their game, these budget-friendly buys are great for helping you achieve your fitness goals. You're just a few clicks away from improving your balance, strengthening your core, and so much more.