These genius, cheap products have near-perfect reviews because they solve so many damn problems
Items that are both practical — and ridiculously clever.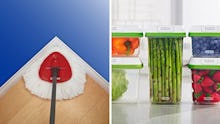 We may receive a portion of sales if you purchase a product through a link in this article.
Aren't we lucky to live in a world where day-to-day problems are so simple to solve? It's literally never been easier to declutter living rooms, organize kitchens, or tackle a home DIY project. With so many genius, wallet-friendly products out there, nothing is stopping us from improving our lives in small — but meaningful — ways.
From a magnetic knife holder that affixes to your wall to a set of expandable bamboo dividers that declutter your drawers, these items are both practical and ridiculously clever — things you might never have thought of on your own, but may realize you can't live without. Each one comes with near-perfect reviews from thousands of buyers, so you can feel confident knowing you're getting something that actually lives up to the hype.