These genius things declutter the crap out of your closets, cabinets & drawers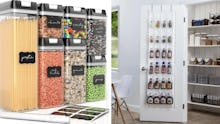 We may receive a portion of sales if you purchase a product through a link in this article.
No matter how cramped your home may seem, there's something out there to make it more put together and give you more space to breathe. Heck, sometimes all you need is some type of rack to tidy up that cabinet, laundry room, or entryway. Well, a few other too but, really, Amazon has tons of genius inventions that can completely transform a room just by tidying it up — and these are some of the best ones there are.