These weird things for your pets are actually life-changing
Having a pet will be so much easier — and so much more fun.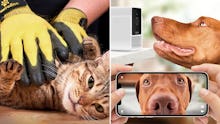 We may receive a portion of sales if you purchase a product through a link in this article.
Having a pet is amazing, but it's also a time — and money — commitment. So when you find even one product that makes your life easier while taking care of your furry friend, it doesn't matter how weird it is, you need it.
From collars with laser pointers on them that allow your cat to entertain himself to a water bowl additive that cleans your pet's teeth to a pooper scooper that's gentler on your back, these 40 products for your pets might be weird, but they're life-changing.