This queer-founded brand just launched an inclusive organic cotton line that's SO soft
Gender-neutral must-haves for every size and shape.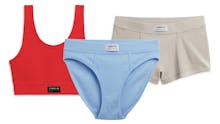 We may receive a portion of sales if you purchase a product through a link in this article.
Comfortable, well-fitting, body-affirming underwear was the goal for the founders of TomboyX. The ultra-inclusive brand thought that everyone — regardless of size or gender — deserved undergarments that worked with their bodies. A cult-favorite brand was born, and the label just dropped a core collection featuring premium OEKO-TEX® certified organic cotton in the coziest ribbed knit. Woven with a specialized knitting process, these are base layers that will stretch, breathe, and feel incredibly soft on your skin.
All inclusive, all essential
Whether you're looking to add a few good pieces to your underwear drawer or planning a total overhaul, the collection includes staples any wardrobe might require. Each piece is fit-tested on body types across every spectrum — you won't even find gender-based divisions to shop on the website — and comes in sizes ranging from XS up to 6X. There are boxer briefs and boxer-inspired bikini underwear, classic tanks and versions with a built-in shelf bra, plus a long-sleeved top you can wear to lounge, sleep, or run errands. Every body-affirming piece is made from that premium cotton (but without the premium prices) so you can feel good about stocking up.
Scroll on to see what are sure to become your new everyday favorites. Also, now through January 31, you can get 15% off the brand's Organic Cotton Collection with code MIC15
1. The bestseller
Having already sold out twice, this low-profile bra is a reviewer-favorite for everything from lounging to sleeping. The soft-ribbed cotton fabric will feel like wearing your favorite T-shirt. It features a scoop neckline and tank straps with a secure chest band, and the fabric is blended with stretchy spandex, so even though the design is unpadded and underwire-free, you'll still feel supported.
Sizes: X-Small — 6X | Colors: 3
2. The boxers
The ultimate multitasker, these boxer shorts pull double-duty as both under- and outerwear. In soft, OEKO-TEX certified cotton, they'll stay breathable under your jeans, but have enough substance that you'll catch yourself wearing them for Netflix marathons on Saturday.
Sizes: X-Small — 4X | Colors: 2
3. The supportive tank
The cut of this organic cotton cropped tank is just long enough that you can wear it as a top. Whether you wear it as a crop top or layer it under a longer shirt, with its wide tank straps, sporty racerback, and scoop neckline, this top is sure to become an essential. It features a built-in shelf bra, so you won't need to worry about layering anything underneath.
Sizes: X-Small — 6X | Colors: 2
4. The bikini brief
A combination of boxer style and bikini structure, this waist-hugging brief features a high-cut leg, elastic waistband, and full-coverage back. Wear them as underwear or to lounge; the soft ribbed fabric is comfortable enough for either.
Sizes: X-Small — 4X | Colors: 4
5. The base tank
A good layering tank needs to be form-fitting, comfortable, and long enough to tuck but short enough that it still looks good if you don't. As you might suspect, this number was built to check every box. It has thick straps with a scoop neckline, and the minimal design can be worn as pajamas, for lounging, or even layered into your workplace wardrobe.
Sizes: X-Small — 4X | Colors: 2
6. The boyshorts
Anyone can appreciate these cotton ribbed boyshorts, the most popular undies of the TomboyX collection, they have a 2.5-inch inseam that's short but not too short, with a secure pull-on elastic waistband and boxer-style front seams. They're form-fitting enough to wear as underwear, but they'd make great pajamas or loungewear, too.
Sizes: X-Small — 6X | Colors: 4
7. The plunge bra
If you're looking for a soft bra with a little more structure, consider this plunge bra that's a new release for 2023 and has become a consistent bestseller. It features the soft, stretchy fabric and secure chest band of the brand's cult-favorite wireless pullover bra, and comes designed with the added visual interest of a deeply-cut neckline and shoulder-baring racerback.
Sizes: X-Small — 4X | Colors: 1
8. The boxer briefs
If you love a classic boxer short, these ribbed cotton trunks are the ones for you — they feature a slightly extended 4.5-inch inseam that's long enough to double as lounge shorts. (When you're not wearing them as underwear, that is.) As with every item in the collection, the cotton fabric is blended with spandex to help these shorts keep their shape, and the stay-put pull-on waistband will feel secure.
Sizes: X-Small — 6X | Colors: 3
9. The layering tee
If cooling temps have you re-thinking your layering pieces, this long-sleeved layering tee is for you. Slim-fitting and blended with spandex for stretch, this cotton scoop-neck T-shirt will lay close enough to the body to be worn under thicker sweaters, and it's long enough to be tucked in. One reviewer described the cotton fabric as "super soft and luxurious."
Sizes: X-Small — 6X | Colors: 2
Back to basics
Once you've had your fill of cotton layers, don't forget to check out the other essentials on TomboyX. From boxer shorts in your choice of inseam length to tuck-friendly underwear and adaptable bras, you'll find everything you need to fill your dresser drawers — all in body-affirming designs made for you, precisely as you are.
Now through January 31, get 15% off the TomboyX Organic Cotton Collection with code MIC15