Trainers say these common dog & cat problems are actually easy to fix
Expert advice that's easy to follow.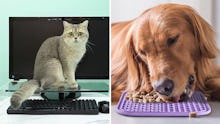 Amazon
We may receive a portion of sales if you purchase a product through a link in this article.
If you ever wish you had more control over what your cat or dog does, you're not alone. No matter what I do, I can't get my dog to walk nicely on a leash. So, I reached out to a few experts to see what they had to say about fixing the most common dog and cat problems, and the advice sounds promising. Sometimes, it's as easy as offering a new toy or swapping out the training tools you're using.
Below, you'll find expert recommendations on how to get your pets to behave a little better, and all the products are backed by rave reviews on Amazon.