Trainers say you should never do these things if you have a dog — & here's what to do instead
These mistakes are common, but the fixes are so easy.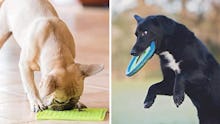 We may receive a portion of sales if you purchase a product through a link in this article.
Taking care of a dog is an ongoing learning experience — I myself have definitely made mistakes along the way. Luckily, we don't have to go down the path of pup parenthood alone. Dog trainers are here to help — and they offer plenty of clever pet tricks to keep our furry friends well-behaved and happy. As it turns out, many "bad" behaviors are actually easy to fix with the right combination of training tools, toys, and treats. Below, I've gathered some of the most important dos and don'ts of dog training, straight from the professionals.