Trainers say you're encouraging your dog to behave badly if you're doing any of these things
Experts swear by these products that help curb bad behavior in your pup.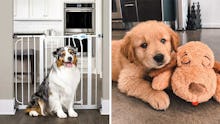 We may receive a portion of sales if you purchase a product through a link in this article.
If you own a dog, it's safe to say you love the little ball of fluff. It's easy to want to indulge your pup's every single whim and spoil them rotten — but sometimes, doing so could actually encourage bad behavior in your dog.
Andy Ramshaw, the dog trainer and owner of Venture Dog Training, tells Mic, "I don't believe we should correct our dog's behavior but should be looking for the cause of the behaviors we don't like. What people consider bad behavior is usually normal canine behavior that is inconvenient for humans."
Ramshaw continues, "So, to reduce instances of such behavior we need to ensure our dog's mental and physical needs are met on a daily basis. This includes adequate food, water and shelter, along with opportunities to sniff, lick, chew, and possibly bark and dig holes. These needs can be met naturally in the outdoors on a walk or products can be bought to replicate them at home."
What problems may you be causing and how can you course correct? I reached out to dog trainers and experts to learn their advice for better-behaving pets — and these tips are things we could all learn from.