This genius couch can transform from a loveseat to a 10-person sectional
It's the only couch you'll ever need.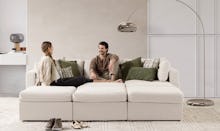 We may receive a portion of sales if you purchase a product through a link in this article.
If you were scrolling on Instagram recently, you might have seen the viral clip of a woman transforming a dining table for 12 into a compact side console without breaking a sweat. That'd be the Transformer Table. Now, the brand's bringing that versatile ethos to the Transformer Couch, which can go from a loveseat to a sofa bed to a sectional that fits up to 10 people.
How does it work?
Just like the viral Transformer Table, the Transformer Couch 2.0 is easy to rearrange and set up. In fact, no tools are necessary and there's almost no assembly required. Each modular section attaches together via steel U-shaped connectors that are easy to take on and off but stay secure once they're clipped in. Whether your situation requires a loveseat for two in one apartment or a 10-seat sectional, just remove the connector and you can add a seat, ottoman, armrest, or corner piece. The couch grows with you, your home, and your pets, family, friends, and more, meaning you won't have to get a new one every time your life changes.
The stain- and water-resistant polyester covers are soft, durable, and available in four colors. They're easy to remove, too, so anytime you want to change the color, you can switch out dark gray for ivory white, or cream beige for light gray. Plus, great news for parents, pet owners, and anyone prone to spills: They're machine washable.
Get up to 30% right now
Tranformer Couch is available with up to 30% off right now — check out all the options here.