50 unique things under $30 on Amazon that are so damn useful
It doesn't take a lot to get a lot.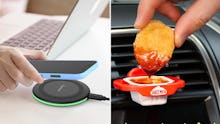 We may receive a portion of sales if you purchase a product through a link in this article.
Amazon is overflowing with useful things you didn't know you needed. In fact, these 50 unique things are so incredibly useful that you're going to wonder how you've gone all your life without them. And — the best part — they're all under $30.
It doesn't take a lot of money or effort to make something like hydrating easier with a gallon-sized water bottle and thin ice that slips right into a water bottle's narrow mouth. You can even make everyday cooking easier with a digital meat thermometer and meat shredding claws for perfectly pulled pork. It's just these kinds of useful products — and more — that you'll find right here.