These gorgeous single-serve wines are my new favorite gift to give — & they're on sale for Valentine's Day
Can confirm: Wander + Ivy wines taste as good as they look.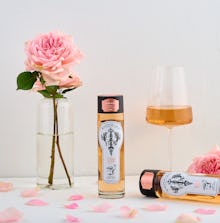 Wander + Ivy
We may receive a portion of sales if you purchase a product through a link in this article.
Lately, it seems like everyone in my life has entered their minimalist era. Which I think is great — until I find myself searching for a thoughtful gift for all of these people who insist they don't need any more "stuff." But I recently discovered a perfect, drinkable solution with Wander + Ivy's single-serve wines, which come packaged in elegant glass bottles that are just begging to be gifted. And now through February 6, the brand is offering 15% off any wine sets that include rosé.
What is Wander + Ivy?
The basics:
Female-founded startup that offers beautifully packaged, single-serve wines
Uses certified-organic grapes grown sustainably on family-owned vineyards
Offerings include a mix of reds, white, and rosé wines
Each glass bottle has a twist-off top and contains 6.3 fl. oz. of wine (or a little more than a standard glass)
Available in a variety of set sizes and as a discounted subscription
Like many of the best innovations, Wander + Ivy came about because founder Dana Ferrero Spaulding wanted to solve an annoying (and expensive) problem in her life: the wasted wine that results when you only want to enjoy a glass or two. Ferrero Spaulding set out to create single-serve wines that don't sacrifice looks or taste — and I think it's safe to say she nailed it.
With a variety of red, white, and rosé wines, Wander + Ivy relies on certified-organic grapes that are sustainably farmed and sourced from family-owned vineyards. Most of the wines are available in sets of eight, 16, or 24 bottles. You can do a one-time purchase or subscribe to save 15% (which is a pretty solid deal if you like to keep a steady supply of wine on hand). Also nice: Wander + Ivy donates 1% of all sales to charities that combat food insecurity (past organizations have included Feeding America and Colorado Feeding Kids). It's all these touches that make Wander + Ivy sets a clever gift for anyone you love — whether it's a friend, a romantic partner, or yourself.
Not too long ago, I gifted a Wander + Ivy mixed varietals box to my mom (one of the aforementioned hard-to-shop-for people who's been trying to simplify). The set came beautifully boxed with a mix of white, reds, and rosé wine, and to say my mom was impressed would be an understatement. I can think of several presents I've given her over the years that are still in their original packaging, but this wine set was polished off swiftly and seems to have helped rewrite history, because now she claims I "always find the most unique gifts."
Also, my mom shared a couple bottles with me (which, I'll be honest, was part of my plan all along), so I can confirm that they taste as lovely as they look.
What reviewers are saying
"LOVE this wine! I'm definitely a bit of a wine snob but hate wasting a nice bottle just for a glass after a bad Tuesday or something. This is perfect for that or just having a small glass with my husband at dinner." — Stephanie S.
"what a great idea. We are always having to throw away wine and the variety pack this holiday season was the perfect gift for my family to enjoy" — Jodi G.
"This was a gift for my mom and she thoroughly enjoyed this wine. She said it was the most delicious wine she has tasted!!" — Chrystal D.
"Nice variety. Enjoyed each of them with our favorite being the Chardonnay" — Bruce N.
"Wines taste great and are perfect for when you want one glass and not a whole bottle! Bottles can also be reused for other purposes." — Amy Z.
Shop Wander + Ivy's Valentine's Day sale
This article was originally published on