40 ways to save a hell of a lot of time around the house every day
Less time cleaning, more time chilling on the couch.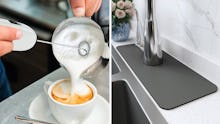 We may receive a portion of sales if you purchase a product through a link in this article.
How much time do you spend looking for things around your home? For me, it's at least a few minutes a day. What about tidying and cleaning small sections of the house? That's probably a few more minutes. What about those big clean-up chores that I probably should do every day, but tend to space out a bit more than that? Yeah…You can probably see where this is going. Lots of little chores and tasks add up quickly, and before we know it, a half hour or an hour has gone by.
Thankfully, there are some quick and easy ways to save a hell of a lot of time around the house every day, and they come in the form of these clever home products that are readily available from Amazon. What you'll find here are easy, useful, and versatile ideas to make your daily life feel simpler. I know that sounds like a big promise, but really, have you experienced the euphoria that is having exactly what you need, exactly where you need it? Like a whiteboard that attaches right to your fridge, or a charging station that has room for every device in your home and their cords? If not, then read on for some ideas to streamline your daily routine.