These 40 weird grooming hacks are so genius, you'll wish you knew about them sooner
Affordable & innovative products to keep you looking fresh.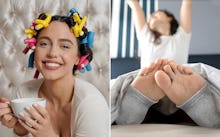 Amazon
We may receive a portion of sales if you purchase a product through a link in this article.
Believe it or not, you don't have to run to the salon or spend a ton of money to keep yourself feeling great. Between expensive trips to the professionals (or instead of them), you can maintain your hair, skin, and nails by picking up a few innovative and surprisingly affordable products on Amazon. Based on the thousands of rave reviews, Amazon shoppers have already caught onto these genius hacks that keep skin smooth and moisturized, beard trimmings out of the sink, and hair looking fresh. For all of the clever grooming secrets you'll wish you knew about sooner, keep scrolling.