What to do when your work mentor lets you down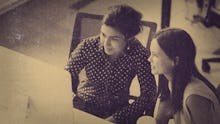 fizkes/Shutterstock
A work mentor is supposed to be someone you can rely on, whether for solid career advice or help bouncing back after a bad day at the office. But even if they have a respected title or decades of experience, they're only human, and it's natural that at some point or another, they might let you down. Knowing what to do when your work mentor disappoints you, though, can be a challenge, especially when you want — or need — to maintain the relationship.
Take Victoria, 37, who had a mentor for all of one hour when she knew they were not a good fit. As she tells Mic, she'd been paired with him through the Small Business Association, which connects entrepreneurs with experienced mentors, yet a phone call quickly informed her that although he was her "match," the dynamic was "far from perfect." As Victoria provided him with information, he began openly making fun of her. Before, she'd been excited to have a mentor, "but when I realized he was laughing at me," she recalls, "my heart sank."
Yet instead of calling him out, she kept the conversation going, keeping her answers to short responses. "I don't know why I didn't say something," Victoria says now. "A simple, direct, 'Why are you laughing at me?' would have sufficed, I'm sure."
Allison, 31, also struggled with how to handle a mentor's insulting behavior. She recalls to Mic how, as a "struggling writer," she'd connected with a successful writer via email and was excited to have an opportunity to meet in-person a few years later. Yet while talking, "I saw my mentor roll her eyes regarding something I said," she says. "It was like a bad online date." After a few more eye rolls, Allison was done. "I never spoke to her again; I was afraid of what I'd say, so I said nothing at all," she says now. "She didn't contact me either."
No matter how long they've been your mentor, a person transforming from your number one cheerleader to someone who doesn't have your back — say, by not vouching for you for a promotion or going over your head on a deal — can be a deeply upsetting experience. Yet as Victoria and Allison's stories demonstrate, figuring out what to do when this situation happens can be tricky, to say the least. Here, career experts share their advice on how to cope when your mentor lets you down.