WFH life isn't always all it's cracked up to be, according to experts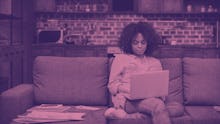 Lightfield Studios/Shutterstock
Many people who work from home — or anywhere with a WiFi connection — often talk about the perks of doing so. It's no surprise that the practice seems to be increasing in popularity, with the LinkedIn 2019 Global Talent Trends Report finding a 78% increase in job listings on the popular career site mentioning the term "workplace flexibility." Clearly, non-office life is on everyone's minds these days, and in an email, LinkedIn career expert Blair Decembrele explains to Mic why exactly she thinks that is.
"We know balance is something that professionals are seeking, and our data shows that 51% of professionals say they are proudest to work at companies that promote work-life balance and flexibility," says Decembrele. Of the thousands of adult full-time workers interviewed for the report, many of them — especially those between 25-40 — expressed interest in non-traditional work life, she adds, with 41% of millennials saying a good job means the flexibility to not have to sit at a desk from 9-5 every day.
However, while working remotely certainly has its upsides in this regard, there are significant drawbacks, too, that you might not realize when first starting the practice. Here, experts weigh in on some of the most common downsides of WFH life.