You could make your home so much more comfortable with any of these highly rated, cheap things
Your home's about to look and feel a lot better.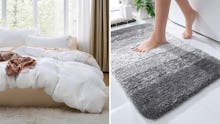 We may receive a portion of sales if you purchase a product through a link in this article.
It's practically an instinct to make your home as comfy as possible: Birds line their nests with feathers; rabbits line their burrows with straw and fur; and humans shop online to find cozy rugs, helpful gadgets, and homey lighting solutions.
So don't fight your natural urges. Here you can find a ton of great products, all designed to make your home as comfortable as possible. From stylish storage solutions to convenient kitchen appliances, there's something on this list for everyone.