You could save a sh*t ton of money if you tried any of these 40 genius tricks
Genius, money-saving products.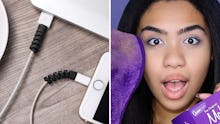 We may receive a portion of sales if you purchase a product through a link in this article.
After a few too many shockingly high credit card bills, I've finally decided it's time to hunker down and start saving money. The only problem is that I'm absolutely terrible at it, which is why I've made a deal with myself: I'm still allowed to shop, but I can only buy items that can help me save money in the long run. This way, I can still have the flexibility to scratch that shopping itch without breaking my monthly budget.
And if you'd like to start saving too, feel free to check out all these genius items that can help you save a sh*t ton of money. From drywall repair kits to wireless doorbells, I've made sure to include a variety of products that are either an affordable alternative to something expensive or can help you cut down on your monthly costs.