You probably didn't realize these eyesores around your home are so cheap & easy to fix
Say bye to scuffed walls and ragged kitchen utensils.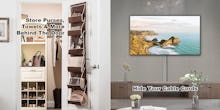 Amazon
We may receive a portion of sales if you purchase a product through a link in this article.
Everyone has parts of their home they hate looking at, whether it's a scratch on the wall or a disorganized closet. Sometimes, these small annoyances feel like a big undertaking to fix, but they can actually be much easier and cheaper than you realize. This list includes a variety of affordable solutions for the eyesores around your house.
For example, it's impossible to ignore the pet hair that piles up on furniture, rugs, and clothing, but you can help manage it with this pet hair remover. Or if you're a cat lover (but not a cat litter lover), this hidden litter box looks like a piece of high-end furniture.
If storage and organization are problems for you, then you're in luck. This list features tons of organizational tools, like this purse storage that hangs over the back of your closet or a monitor stand with drawers for storing your office supplies.
Whether you want to make small cosmetic changes or completely rearrange a room, you'll find plenty of cheap and easy solutions on this list.