You probably don't realize you're making these expensive mistakes around your home
Luckily, these problems have easy, cheap fixes.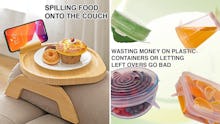 We may receive a portion of sales if you purchase a product through a link in this article.
No matter how closely you stick to your monthly budget, small mistakes around the house can quickly add up into one giant expense. For example, forgetting to turn your lights off may not seem like a big deal — until your electricity bill is double what it was the month before. Luckily, I've put together this list of expensive mistakes you could be making around your home without even realizing it.
From misplacing your bills to using wasteful disposable food baggies, even the smallest of mistakes have an easy remedy. For example, you can easily keep track of those bills with the help of some magnetic fridge clips. I've also made sure to include a variety of reusable alternatives to disposable items — and food bags are just one of the clever picks you'll find below.
But if you want to see more, you'll just have to keep scrolling.
This article was originally published on